Should I have a photo booth at my wedding?
As a wedding planner with over a decade of experience, I can confidently say every wedding needs a photo booth. Beyond the open bar and torn tux pants from dancing on the dancefloor, what else do guests walk away with? Photo booths provide endless entertainment for your guests and act like a wedding photographer who's there just for them, capturing moments they want to keep and documenting the friends who were there on your big day.
1. Creating the memories that matter.
One of the enormous benefits of having a photo booth at your wedding is the memories it will create. Your wedding day will fly by in a blur of activity, and a photo booth lets your guests snap fun, candid pictures that will help them remember all the special people and moments. These photographs will be mementos that you and your spouse can look back on for years to come.
If you're looking for a photo booth that is genuinely one of a kind, I highly recommend the premium Fotably Bellows Open-Air Houston Photo Booth. This beautiful, vintage-inspired photo booth is designed to look like a 1920s camera and captures incredible, high-quality photographs. The open-air design allows for more flexibility and creativity and is an excellent option for larger groups of people. It's just as fun to watch as it is to use.
The Houston Fotably Bellows Photo Booth rental is set up on a tripod, and guests step in front of it to have their photo taken. A photographer is on hand to operate the handheld shutter button (unless you want a go, that's ok too), ensuring that every shot is perfectly composed. The photographer is also on the lookout for fun, candid moments between poses, capturing the true spirit of your event.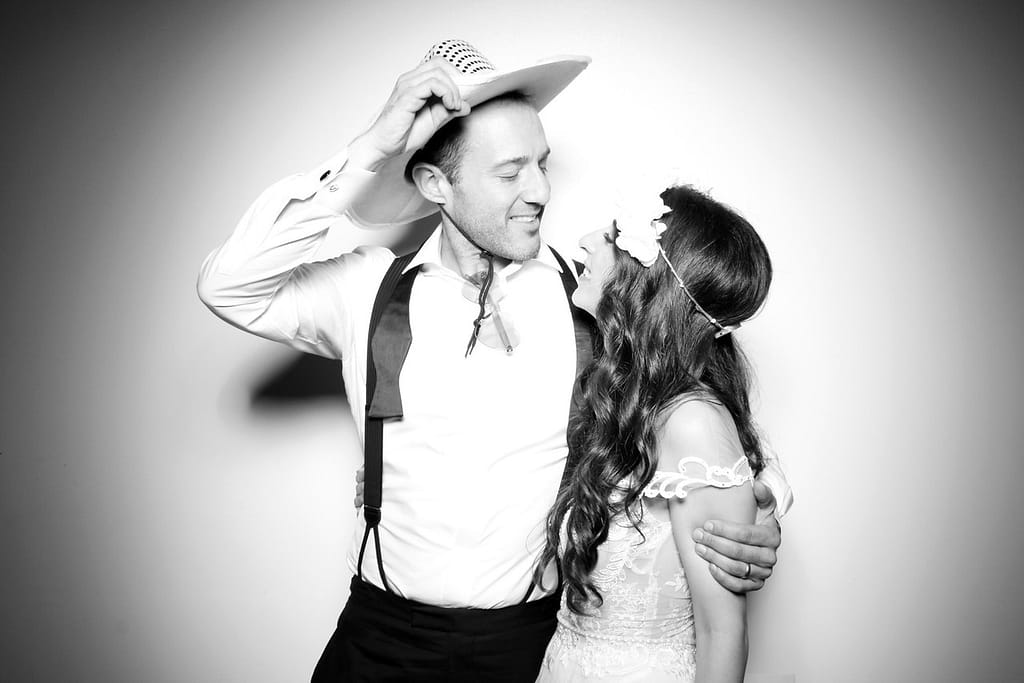 2. Add entertainment for those who don't dance.
Do you really like dancing at weddings? All night? One or two songs? Only if someone drags you out, and you feel obligated? How about Grandma? Many weddings rely on the dance floor and open bar to be their only forms of entertainment. Don't get me wrong, they are fun too, and 100% should also be part of your night, but think about your guest list and who won't be participating. A great photo booth is an excellent alternative to get those guests up and out of their seats and having a blast with everyone else.
One of the standout features of the Fotably Bellows Photo Booth is its beautiful, vintage design. The booth's exterior is designed to look like a classic 1920s camera, complete with a bellows lens and a leather case. This unique and stylish design will add a touch of glamour and nostalgia to your wedding, and it's sure to be a hit with your guests.
But don't let the vintage design fool you – the Fotably Bellows Photo Booth is equipped with modern technology to ensure that your photographs are of the highest quality. The booth uses professional lighting and a high-resolution camera to capture crisp, clear images. Guests can send the photos to their phones from the rear screen or even opt for glossy 4×6 prints adorned with your wedding monogram. These photographs are truly one of a kind, and they're the perfect way to remember your special day.
In addition to the beautiful photographs it captures, the Fotably Bellows Photo Booth is also a lot of fun. Your guests will love posing for the camera and taking home a memorable memento. It's a unique and memorable activity that will have your guests talking long after the event.
3. It's one of the few things you will look back on from the night.
I've seen firsthand the joy and excitement a photo booth can bring to a wedding. Next to the DJ, it's the second thing I recommend. It's a fun and unique activity that your guests will love, and it's a great way to create memories for yourself that will last a lifetime. There are booths for every budget, but I recommended splurging for the ones who do it well and offer photos worthy of hanging on the memory wall in the hallway. So don't hesitate to add a photo booth to your wedding plans and make your special day even more memorable. The Fotably Bellows Open-Air Photo Booth is a one-of-a-kind option that will be a hit with your guests.